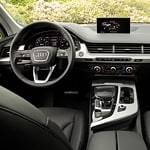 The Audi Q7 is a luxury-based SUV that comes in a mid-size. This vehicle offers an exceptional ride via its high-quality engine components. Quatro all-wheel drive is also available for tremendous traction. Fine craftmanship can be seen throughout the interior, and the exterior is delightfully elegant.
When it comes to advanced innovation, the Audi Q7 is a leader in technologies. This mid-size SUV offers one of the best virtual cockpits. Some of the most illuminating colors can be seen thanks to the vehicle's ambient interior lighting. The exterior hosts HD Matrix-design LEDs, and they'll give off an impressive illumination. The Audi Q7 goes even further by offering a premium audio system that produces enriched sound quality. In addition to that, Bluetooth has been embedded into the system for hands-free function.
There you have it. Why not choose the Audi Q7 as your next SUV? Hit us up for a test drive.